WIDE BORE 6.1+ INNER BARREL / CANON DE PRECISION / mit einem Innendurchmesser von 6,1mm+.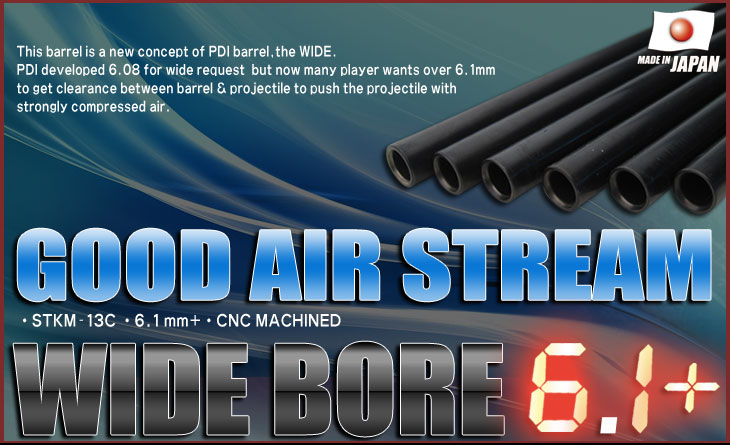 As you know using a wide barrel effectively,need upgrades the high powered spring & strong piston.But PDI has no upgrades for AEG. So if you use these barrels,please use 3rd party's upgrades.Then we can't assure any problem,so please do understand that.

PDI select the specific BROWN oil & liquid of Black Okide.
So those color may remain on the surface of the barrel.
PDI has checked it's no problem of shooting accuracy,so it's no defect.

Inner Diameter:6.1+
Outer Diameter:8.55mm
Made of STKM13C.

PDI New products is High Precision Wide Bore Inner Barrel.
We desined a tight bore barrel & get so much reputations in this industry.
This time we try to proceed new concept. It's a WIDE bore.
PDI recommended using 6.08 dia to get a distance, the clearance inside of the barrel & projectile will support making good airflow.
So this time, we make a wider new dia 6.1+.
This + means same as RAVEN, not precise as PDI Stainless steel brand (6.01, 05 & 08)
| For | Length | Price | Stock | ID | |
| --- | --- | --- | --- | --- | --- |
| G36C・P90・M4 short | 247mm | \2,300 | | # 648938 | |
| HK416 | 275mm | \2,443 | | # 648945 | |
| M4A1 | 375mm | \2,912 | | # 648952 | |